Mattr Media
Small Agency Launch Events Series
Challenge
Mattr came to us a video production agency becoming commoditised, constantly competing on price and not winning work that allowed them to express their creativity.  They wanted to stand for something beyond just the services they offer. There was no sales strategy in place other than a network of a few referrers and marketing activity was limited.
Being a two-man agency, the pressure is always high, having to deliver the client work, whilst having one eye on growth; so, it was important to put in place some manageable objectives and processes that did not overwhelm.
Solution
We conducted a brand positioning workshop and what became apparent quite early was their desire to tell authentic brand stories and really get under the skin of an organisation. They were quite interested in purpose as a concept and were drawn to people, organisations and brands that have a real mission at their heart.  At first, they had thought this meant going after charities and 'good causes' but they still wanted to work with commercial brands, so the new business focus became brands that are attempting to 'build a movement'.
The new positioning got them really excited and opened up a world of opportunity. It was also reflected in the type of work they wanted to do, which was sometimes internal comms but always focused on the real stories of founders, customers, investors and employees. They believe businesses should communicate from the inside out and this is what we needed to land.
We decided to launch an event series called 'Build a Brand Movement'. They had never run an event before and the thought of it was daunting. One year later we've run four events all with around 30-60 attendees. Speakers have ranged from The Body Shop, Eve Mattresses, Karma Cola and many more. The events have been a huge part of driving brand awareness and topping up the sales funnel. They have given Mattr confidence and a vehicle to communicating their positioning and personality.  They have connected them with so many potential partners and prospects. Inevitably leads have started to flow along with lots of additional content.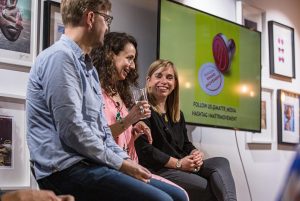 But we didn't stop there. We launched another, smaller and more intimate roundtable event to target prospects who were further down the purchasing journey and thinking more seriously about video projects.  This is where a group of brands could workshop their challenges and ask Mattr questions to help them plan their video content.  This exposed their talent and also put them in front of buyers with live new business opportunities.
There are plans for further both events, looking at sector specific workshops and targeting more exciting brands who are building movements.
Behind the scenes, a lot of work has gone into the sales process and how we capture data and nurture pitches and leads within a CRM system.
Results
A constant challenge is trying to get customers to understand the value of video content and getting them to think longer term about their requirements.  Over the period of 18 months, we have helped them win larger, more strategic work where they can lead on creativity and be seen less of a 'production house'.
We continue to support Mattr every month on lead nurturing, content writing, event planning, pitch support and PR.  They rely on us to keep them focused and also as an extra pair of hands, when they are swamped with client work.
"Since working together Gray Matters has given us the tools (and the kick up the backside!) to put into action things that we had only ever just 'talked about'. Adam's regular advice, insights, and objective feedback has completely transformed how we treat every stage of the deal process. Most importantly though he's made us realise the value in ourselves as a company."
Josh Hine – Founder, Mattr Media