Our new business development community – BD Matters
July 23, 2020
We're excited to announce the launch of a new community for like-minded people within the business development industry: BD Matters.
BD Matters was created to champion the industry and change perceptions of this dynamic perception. We love sales — and want we want the world to know why. We also know that business development can be a lonely place; that's why the community element to BD Matters is so important. We want this to be a space to connect with one another, become mentors and share our ambitions and frustrations. We want to build careers together and rewrite the narrative on what it really means to be a business development professional.
Want to get involved? We'll be hosting a series of events over the upcoming months, including our BD Matters Monthly Meetup; it's an opportunity for you to meet and connect with peers, share knowledge and improve your business development skills. Let's discuss how we can move our discipline forward and educate our colleagues.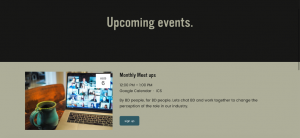 Looking to hire a BD professional? This community is already home to some of the best talent, from part-time contractors to freelancers and those looking for full-time work. We'll post your job opportunities for free on our recruitment page and over the next few weeks we'll be launching an online marketplace so that you can find the people you need.
This is a community built from shared knowledge and those with a passion for BD. We value your opinions and want to know how you feel working in business development and the issues that matter most to you. We'll also be looking at the perception of sales from those working outside business development to get a better understanding of the industry. We've created a new survey to get to the heart of BD. Your opinions will help us to build our community and improve our profession, together.
You can sign up for the BD Matters network here, and join our LinkedIn group here.