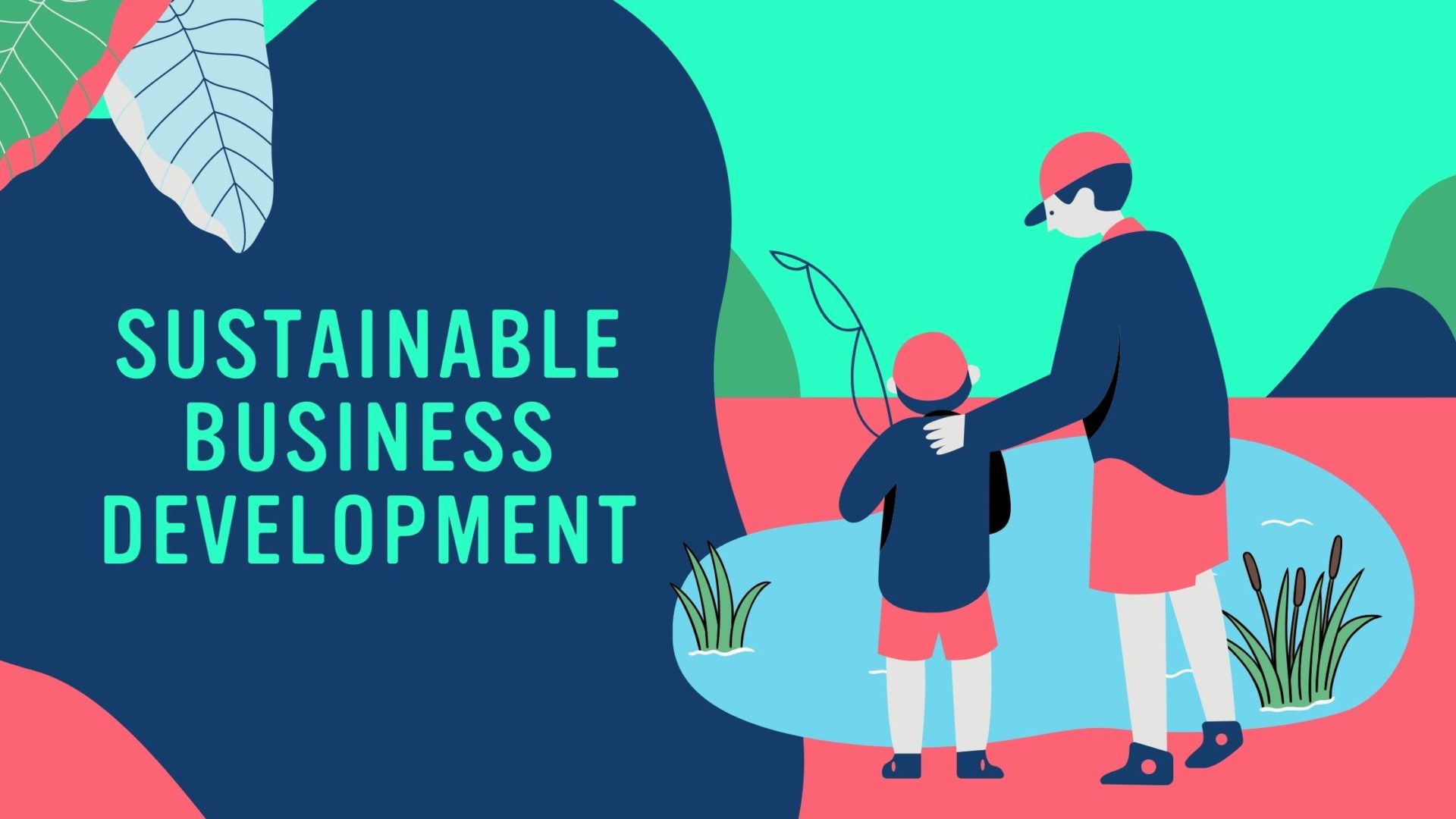 What do we mean when we say 'Sustainable Business Development'? 
February 14, 2022
"Give a [wo]man a fish and you feed them for a day; teach a [wo]man to fish and you feed them for a lifetime".
We're not talking about the recent trends for brands to be seen as more purpose-driven or ethical.  Whilst we advocate this approach to business, to us, the term sustainable means 'being able to maintain a certain rate or level to your new business pipeline'.
You often hear about the 'peaks and troughs' in sales.
Or the fear of losing a key client that contributes more than 30% of your revenue.
Or Brexit / COVID / next global catastrophe that might hamper your growth.
Or the excuses… there's just not enough time, I hate sales etc.
But there are things you can do.  Things that will make you more robust in challenging times, and the businesses that did these things a few years ago, were able to survive and ride the recent storm much more successfully.  So if you just scraped by, don't make the same mistake again.
Here are our top tips to make business development more sustainable:
Build your brand
One of the best bits of advice I can give you is, stop only thinking like a business and instead, think like a brand. Agencies are brands too! This simple but crucial mind shift, ensures you focus long-term and determine a vision and positioning.
To build a brand, you have to stand for something. You can't just offer a good service at a reasonable price. You're also going to need to communicate a consistent message over years and years for it to resonate, and to be remembered for the thing you stand for.
Do you have a distinct tone of voice?  Do you share a consistent point of view or stance on something?
There's positioning and then there's positioning…
We believe positioning should have one constant, and one variable i.e. one thing should never change about who you are – ever! (The brand part I mentioned above) And one thing has to change to adapt to the market.  Businesses without the former, get lost chasing the next shiny buzzwords and have no North Star or sense of direction.  But without the latter, you can't remain relevant.  Can you define what these are for you?
For example, why you exist, what you believe in and your personality should be well engrained.
But your service offering, how your work, and who you do it for, might evolve.
If you are missing one of these categories, then you are weakening your positioning.  Download our positioning scoring criteria to check how you're doing by completing the form at the bottom of this page.
Reconsider your investment in business development
I believe BD is massively under invested in compared to the objectives and expectations of agency owners.  There is a naivety about what is required to generate leads.
Anecdotally the business development team of a marketing services agency is 1% of its workforce.  I don't think the same could be said for many other services businesses.  I've been in BD my whole career and even when working at global agencies with 400 staff, there were only 4 people on my team.
Yet they have to do the prospecting, pitching, manage the website, social channels, PR, CRM system, run events, do the newsletter, make the tea, build the creds, get the case studies together, enter the awards, create the showreel.. the list goes on.
Or better yet, the business owner tries to do a half-arsed job at this, whilst trying to manage the day-to-day and getting pulled into client work.  It's a car crash waiting to happen!
Define clear roles and responsibilities, hire decent new business people, invest in the technology and the marketing they need for success, track time and budget, and don't ever stop.  You can't rely on referrals forever and the demand for sales is never going away, so if you don't have these skillsets you need to invest heavily – particularly in your early years. Stop cutting corners and instead commit and consider it an investment in your future.
Stop thinking short-term and only looking at the cashflow
"So your positioning is awful, there's no strategy, the website looks like it hasn't been updated since 1990, there's no CRM system, but you want to know if we can win you new business within the first 3 months?"
"Have you heard of Account Based Marketing?
…ummmm, don't have the patience for that.
But you said you wanted to win much larger accounts and double the size of the agency in 3 years?"
Many businesses struggle with short-termism but it still amazes me the number of agency owners I meet that expect results in the first few months; oblivious to the graft that goes into getting a small, unknown, independent agency on the radar of a national brand, in a market of 30,000 agencies and 20,000 freelancers.  Sure, let me just grab my magic box and we'll whip up a few meetings.  Obviously some agencies have a more established BD function and built a reputation, which is a huge advantage, but still timing is everything and the chances of reaching out to someone who is looking to purchase your services then and there, are slim.  Nurturing and patience are the only way to maintain relationships with these people for when the right time does come.
A blog and a handful of emails is going to do nothing to move the dial.  As a business owner you should be spending 20-50% of your time on BD, and that number should only increase as time goes on.
Love your CRM
The database you've paid no attention and given no love to is your most valuable asset and you don't even know it.  But you'll sit on the phone to your clients banging on about the importance of data.  What shape is yours in?
Thankfully there's some very user friendly sales products out there. We've particularly enjoyed working with Hubspot and Pipedrive. These tools are like chocolate cake for sales geeks like me.
But it's all about how you use your tools. You need to be quite organised and systematic with how you use a CRM. You need to have a deep understanding of your target audiences, how you would segment data and tag those personas, and then be able to design it to fall in line with your sales process.
Don't get me started on the analytics and dashboards you can whip up to give you access to insights on your performance.
This is your marketing engine. Your mouth, your eyes, and your ears. Those are 3 pretty important senses to lose. Imagine being only able to smell and feel? You'd feel like a slug. Maybe that's why you're feeling so sluggish. You've got no engine, or one that needs an oil change at least.
And then once you start connecting to other products via Highway Interchanges like Zapier, you're really cooking on gas. This is the start of your tech automation journey… and on the other side of that is AI, so you want to be careful when playing with fire.
But look. Just get organised on the basics of a CRM. We have some guides on best practice if you would like to read some stuff about this, fill out this form.
Don't just run to the pitch and take your foot off the gas
When the pitches come in, they obviously become your main focus, as this is your chance to win a new client.  Pitches can be very draining, both in terms of time and energy.  Many people aren't aware of how much goes into pitching, so it's definitely a good idea to track time and budget, so you can look back and review.  It can also become very easy to look at what's right in front of you, as opposed to what's beyond the horizon.  You should divide up people's roles so you have one person looking at the now, and one looking at the future.    If a pitch doesn't go your way, and you've over-invested to win it, then having no pipeline is a double-slap in the face.  Make sure you are looking at the data that tells you where future success may come from e.g. no of inbound leads, conversion rates, number of speculative meetings, outbound comms.  If this dries up, then so will your business.
Sort out your time management and processes
Many businesses fail because they lets things slip or they get fed up with business development.  But it's like going to the gym, or cleaning your teeth – its a habit you must do all the time to stay on top of it.  And for that you need a process.
Simple processes you should put in place to ensure success:
New Business status meeting once a week to run through the pipeline, live pitches and any upcoming sales and marketing initiatives.

 

Don't bring too many people in, and don't spend ages talking about every deal under the sun.

 

Focus on what's important right now – time is money.
Sales and Marketing Calendar to house all your activity, plan scheduling, resources etc.
The CRM keeps all your contacts, deals and activities in once place.
Block out your diary for key tasks – pitches, blog writing, outreach (don't move or delete it – be accountable to yourself!)
Quarterly reviews on performance with goals set throughout the year.
So why does all this make business development sustainable?
Well its about getting your mindset and investment in the right place to set you up for long-term success. Go into new business with two eyes open, all guns blazing. Don't keep fighting or hiding from what it takes to make BD a success.
Once these things are in place, you can focus on the part of sales more of us enjoy – nurturing and building relationships.
That is what sales is all about.  Good, interesting conversation with those who you share visions, ideas and values with. Or debates with those you don't.
COVID changed the game
We went digital turbo drive – sucked into the matrix – and still trying to figure out 'what the hell just happened to life?
In reality we just replaced all human interaction with what we know as the digital world. More traffic, more interactions and stressful to navigate – a complete web block, destroying some sales relationships that could have flourished in real life, and struggling to get our content heard.
But on the flip side, we loved the speed and how cost effective sales became. It was suddenly so cheap and easy to reach big audiences, and the bots and scrapers had a field day, working their way into our underworld. There's no doubt digital and data give us the power to scale, so as we move out of lockdown, it's about getting the best of both worlds.  And embracing the new buzzword – Hybrid.
I'm sure buyers and sellers will be much more relaxed and start to enjoy physical relationships. I expect businesses to enjoy working together in a human way again. And if we entwine what we've learned from this time the digital world, then that's a real opportunity to build a powerful sales force.
Want to become a master of your own destiny?  Let's get a date in the diary.